Full Immersion: Ashland OR
JULY 6-19, 2016
I will be returning so soon to Ashland, for the 3rd time this year…and as always, the curriculum grows and evolves each time I return in response to a deepening of practice within the community. July's program expands yet again to include entry points for beginners, returning students and dedicated practitioners wishing to dive even deeper.
New offerings include a MogaDao Morning Medical Qigong Mini-Immersion as well as 3 classes of that form,  a Practitioner sessions called "The Living Kiva", and a new offering  "Reclamation: The Ritual Recovery of True Sexuality" in which we will use artistic and ritual means, as well as the MogaDao Sexual Qigong forms, to touch, retrace and create toward the birthright of our sexuality.  All class descriptions, prices and schedule can be found below.
I have also arranged classes in comprehensive  Immersion Pathways to better assist you in knowing how to step into a curriculum progression for your deepest evolution and transformation. Pathway Packages are available for purchase until 9 am on Saturday July 9.  As always, classes are also available for Drop-In.
Please note that refunds are not available for any package purchased in advance, regardless of attendance.
For those new to the work…read more about practice tradition here:  MogaDao Sacred Daoist Sexuality 
The work of sacred sexuality, as it moves through me, I call The Great Remembering: Sexuality, Soul and our Eternal Wildness.   It is rooted in the sacred practices of MogaDao Sacred Daoist Sexuality, and extends and expands creatively from this root drawing from all of my teaching lineages, including the Water (as a Watsu practitioner), the wilderness, experiential education and international cross-cultural immersion.  This work does not emphasize or teach toward mere "technique", but rather offers an entirely new culture of sexuality that in and of itself creates an atmosphere of freedom and integration for those who stand inside of it. Although there are practices that are taught, it is the context which invites students into their own authenticity and natural gift of the their sexuality.
***Please note that the culture of these classes and workshops is one of deep respect, reverence, celebration  and integrity. At no time will participants be asked to take off clothing, engage sexually or share beyond their own comfort. Teachings of explicitly sexual nature will utilize silicone models of male and female anatomy.
  IMMERSION PATHWAY PRICING reflects a 10% discount and must be purchased by 9 am on Saturday July 9th. 

Payment can be paid via PayPal online, or paid at the door (Cash , Check or Card)
CLICK ON THE DOCUMENT  IMAGES THEMSELVES FOR A FULL PAGE VIEW of the Schedule and Immersion Pathways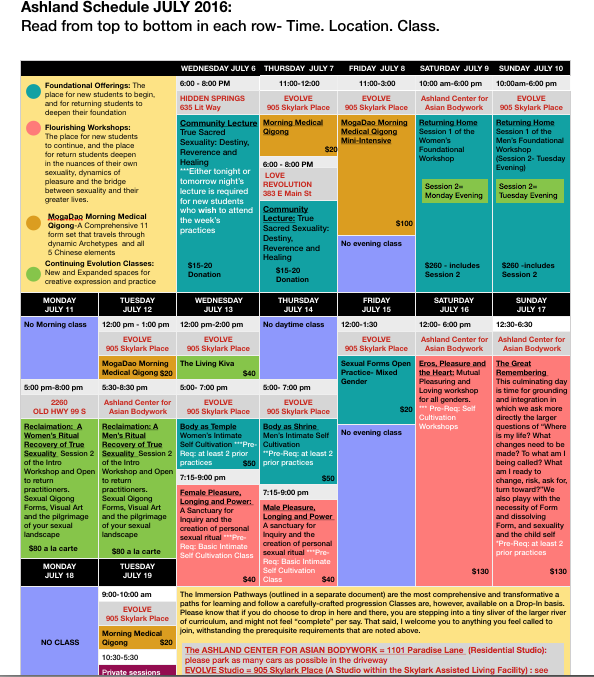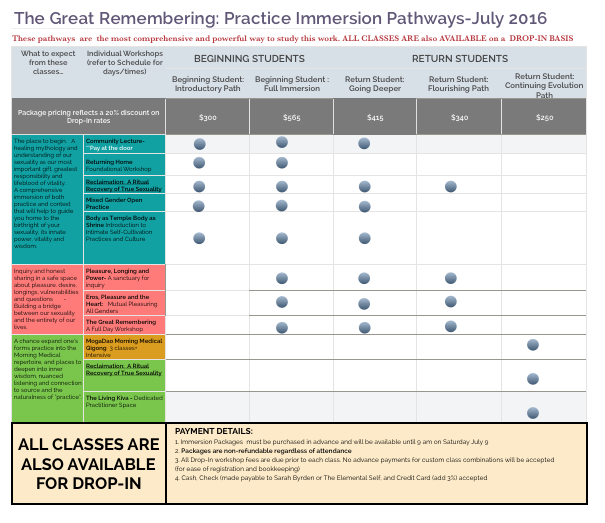 ---
LOCATION INFORMATION
Evolve Studio @ 905 Skylark Lane Place
This practice studio is part of Skylark Assisted Living at the top of Mountain Street. From Town driving on Mountain St., turn right onto Skylark Lane just before driving across the bridge over I-5 turn. Straight ahead of you is the main building addressed 950- this is not our building and please do not park here. Continue driving around to your right and you will see  905 posted on 2 double glass doors ahead of you (behind the green fenced refuse area). Parking is further up the hill in a large lot, or on Mountain Street itself…
Ashland Center for Asian Bodywork @ 1101 Paradise Ln, Ashland, OR 97520  **There are 9 spaces for parking in front of the house and in the driveway. Please carpool to these classes if possible.
 2260 Old Highway 99 S.
Head out past Emigrant Lake, after main entrance go about 2 miles and look for signs for Old Siskiyou Highway, Old Highway 99—turn RIGHT
Follow this road under 2 miles and look for large yellow HIDDEN DRIVEWAY sign—turn RIGHT after sign.
This is our driveway. Follow driveway just under 1 mile, along the way you will pass Old Siskiyou barn on right and parking lot on left, keep going.
Cross railroad tracks and turn RIGHT follow this to end—enter through blue metal gate with prayer flag on left and drive to main house and park wherever makes sense.
Once you've parked you will walk between main house and garage and cross over bridge to "barn" enter, remove shoes and turn left and head up the stairs. If you need to contact Sarah, text her at 415-439-3931
______________________________________________________________________
CLASS DESCRIPTIONS  listed chronologically

Our sexuality is more important and all-encompassing than we ever imagined- It is the most sacred and primary energy that we have.
 Ancient Daoism and Chinese Medicine hold sexuality in its rightful place as a primordial power and acknowledge it as the fundamental energy of every aspect of our lives- responsible for physical health, vitality, creativity, generosity, trust in life,  and our ability to live a life that is aligned with our unique and original purpose. From a Daoist perspective, our sexuality holds the code to our destiny.  A radically freeing, healing and empowering perspective that will change the way you  relate to sex and your own body forever, illuminating why our sexuality is our greatest responsibility and deserves our undivided attention.
---

I am very excited to have brought the the MogaDao Morning Medical Form to Ashland in April , which took root into the cultivated practice ground of the last year in a very deep way. This form, which is an 11 form set,  is absolutely the foundation of all of MogaDao Qigong and will offer tonification of all 5 organ systems, greater energetic range and a feeling of  "rounding-out" to those already practicing the sexuality work or for those who prefer to begin with Medical Qigong Forms for their overall health and harmony.
I will be teaching 3 classes and 1 Mini-Immersion of this form. If you wish to attend these classes and would also like to purchase the accompanying manual, you may do so by emailing Thomas Jaggers at tbjaggers@gmail.com to let him know of your intention to make a purchase and then send a check for $34 ($30 for the manual and $4 for post and packing) payable to Thomas Jaggers to 2300 West Alameda D7, Santa Fe, NM 87507.
Morning Medical Qigong "is the original MogaDao Qigong form, created by Master Zhenzan Dao to be one seamless, flowing form that nourishes all of the organs of the zangfusystem of Traditional Chinese Medicine. Morning Medical Qigong is the form most personal to Master Zhenzan Dao, as he created it as a very young man in order to compensate for some of the harried and indistinct quality and the "rough edges" in the forms that he was learning in China in clinical settings, as he attempted to heal himself from debilitating Chronic Fatigue Syndrome. In Master Zhenzan Dao's unique need and vision to heal, the form became a container for archetypal and mythopoetical considerations which in his teaching would become indivisible from the practice of medical qigong, setting the comprehensive standard for the tradition of MogaDao Qigong. The form is repeated, class after class, with the teacher imparting slowly the physical, medicinal, and psychospiritual aspects, so that the student progressively, thoroughly, learns the form."
-the quoted text above is taken from the MogaDao Institue Website
---

This workshop is session 1 of a 2 part workshop that will offer a foundation of sacred practice and philosophy for Men and Women to celebrate, heal and refine their relationship to their sexuality.  In order to offer a context for a new sexual mythology, this day will include  the Archetypal and embodied  practices of  the MogaDao Women's Sexual Qigong Forms Forms  and MogaDao Men's Sexual Qigong Forms, Yin and Yang theory and the Chinese Medicine and Daoist view on sexual energy. This day lays the foundational and cultural pieces for this work. Through beautiful  spaces of safe sharing, discussion, practice, writing and ritual, we will create a sacred container and lay the groundwork for one's passage toward the birthright of their sexuality. Session 2 of this workshop is required for new students and is included in the price.
*Prerequisites- Attendance to one of the lectures, on Wednesday or Tursday evenings is required prior to study of this work
---

I am so excited for this brand new session which will include the sexual qigong forms, as well as the use of visual art, ritual and guided exercises to trace our own unique sexual landscape, come to a deeper understanding of the personal sexual story in which we are living,  and move into the territory of transformation, healing and trust in one's own uniqueness.  This session is a creative expansion of the sexuality work and is Session 2 of the foundational workshop, as well as a new class for return students to explore.
______________________________________________________________________

"Kiva" is a Hopi words referring to an underground (or partially underground) dwelling that is used for ceremonies and religious rites. A kiva, because of its unique structure and its subterranean nature, is a womb…big enough for us all to walk into and to be held in a kind of sacred exploration.
"The Living Kiva" a forum that will be just that- alive.  Guided by Sarah, with no set curriculum for these sessions, we will come together to be guided not only by the energy in the room, but by your living questions, inquiries and discoveries from your own life. Ultimately, these sessions are a time for deep creativity and following of the moment- which may lead to spontaneous practices, conversations, rituals, meditations and other  creative offerings.  This is a space for us to discover together that "practice" is alive all the time, that the doorway to the sacred, to our own light within, is perhaps closer and more easily accessible than we imagined. It is here that we will begin to open the petals of the "practice" flower to discover that practice is present where truth is present- whenever we are telling the truth, exploring what is- as it is- and that there is and can be great spontaneity in this and a responsiveness to the moment.  These sessions are for new and return practitioners alike, those who wish to have further spaces to explore the aliveness in them and the moment.   The Living Kiva will ensure that the dialogue, conversation, practice and inquiry will meet the living needs of the community at any given moment, and will undoubtedly deepen and evolve over time, creating a beautiful Sangha
---

These class will teach an intimate sexual self cultivation practice and culture for Men and Women
(in separate classes).
Self cultivation is the place in which we come into deep, intimate contact with our own sexual bodies, imaginations and energies. It is here that we celebrate the absolute goodness, rightness and innocence of our sexuality with our own self-reverent touch. We become the lovers that we long for,  take responsibility for the nourishment of our sensual and sexual fullness, and come into an ever-deepening awareness of our own sensitivity, vulnerability, desire, longing. and nuanced needs for healing.  Sacred Self Cultivation is practice of self healing. I say of this practice that it is where "the rubber meets the road" so to speak…meaning that it is a very direct encounter with one's own sexual spirit and body. This practice is the one in which we are empowered with the responsibility for our own relationship to our sexual bodies and spirits and thus precedes sexual union with a lover- as WE are the ones who must lay the stones toward our own deepest sacred sexual need, sensitivity celebration and healing in an act of the utmost self love and creation.
---

This time is a chance for us to dive deeply into personal questions and experiences around pleasure and orgasm, longing and desire, power and vulnerably as related to sex, our bodies and sexuality, in a trusted community space- what a rare and precious gift. This class will also include the new work of creating and identifying the elements of one's own unique sexual cultivation ritual. These sessions are particularly powerful spaces for healing and shared conversation and to come to see that indeed, we are not alone in our questions, desires and longings in our sexuality, for it is the most natural thing in the world. Undoubtedly, the most common comment I receive at the end of these workshops (including the prior basic self-cultivation) is "I wish i could have had learned this/had this conversation in middle school- this is the sex-ed we never got".  This workshop isa space for return students to continue their inquiry, as well as new students to deepen the dialogue from the prior workshop.
---

Mixed Gender
In this class, we will review the Men's and Women's sexual forms in a class container.
The Qigong forms themselves are medical qigong forms, offering tremendous energetic healing and cultivation toward the Chinese organ systems.  Qigong is a system of  body postures and movement, breathing, and meditative awareness with roots in Chinese medicine, philosophy, shamanism and martial arts. However, It is through the beauty and embodied poetry of the MogaDao qigong forms (an articulation that is quite unique and original to MogaDao) that we touch into the wisdom of Archetypal power, as a reality, not just a concept.  Through these forms, we embody the magnitude of specific archetypes in a way that touches our soul and spirit as we have longed for.  Inside of the forms, we come to understand something of our own potential, nuances, beauty and specific essence.  We write the story of our own becoming with our bodies.  The forms are both a map and a mirror.  Their perfection and wisdom lies in their energetic wholeness and completeness. Within each form exists a map for energetic harmony, representing natural cycles of being and human powers in their fullness, containing wisdom and certain "guideposts"  against which we can more clearly see our own  current patterns as well as touch the stirrings of our potential. These forms are, themselves, teachers. They exist for us as ancestors, bridging time, reaching deeply into both the past and the future. Our immersion into form becomes an embodied prayer with the power to heal, amend, forgive, rewrite, understand, and cast  faithfully toward destiny.
_______________________________________________________________________
This workshop will reflect the depth of practice that we have cultivated as mixed genders and shared throughout the week. There will be spaces in this workshop for sharing and conversation (with great respect for varying degrees of personal privacy) about what brings us pleasure, what we wish our past, present and future lovers knew about our bodies and sexual hearts, teachings about mutual pleasuring techniques for men and women, associated emotional pleasure landscapes for men and women conversation, Q and A. This workshop blew us all out of the water in February and April, with the sincerity, healing and beauty present in the room, brought by each and every individual. 
---

The Great Remembering: Sexuality, Soul and our Eternal Wildness
A Full Day Culminating Workshop, open to both Men and Women,. This will be a full day of deep practice, nourishment  and celebration of our week together. We will share sacred physical practice, including Qigong forms, ecstatic dance, meditation, group activities and conversation and inquiry. This will be a day in which we ask more directly, the larger questions of "Where is my life? What changes need to be made? To what am I being called? What am I ready to change, risk, ask for, turn toward?". This day is a beautiful and grounding time for integration of the entire week. 
---

Private Sessions Tuesday July 19
1
10:30
11:45
1:45
3:00
4:15
Email theelementalself@gmail.com to book